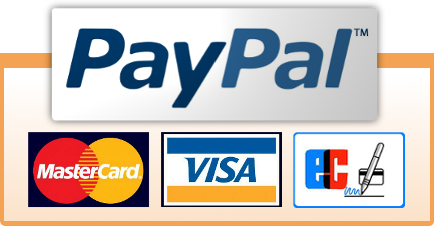 After completion of the ordering process you will be redirected to the secure Pay Pal page.

There you can easily log in with your email address and password. If you don't have a Pay Pal Account you can pay with your credit card instead.

The amount will be transfered as soon your order has been confirmed.

Pay Pal has a comprehensive buyer protection program. More information can be found at www.paypal.com.
When ordering in advance you will receive after completing the order an e-mail in which you will find our bank details.
Please then transfer the amount to our Business Account.
We will process your order once your payment amount has been confirmed.
Please enter your name and your order number in your payment details.