Description
Kit for a preamplifier including remote switch for connection to an unadjusted loop antenna.
The kit is designed for large loop antennas (8 m and more). Untuned loops, in conjunction with a dedicated amplifier, are very powerful, wide-band reception antennas.
The package includes two populated and tested circuit boards (amplifiers and remote switch), two BNC sockets for PCB mounting to be soldered onto the circuit board of the remote switch, and a dc power supply cable.
The RED FOX Active Antenna is a simple yet powerful solution. Due to the rather moderate overall gain, the focus is on a good signal-noise distance and not on a large S-meter excursion.
Technical specifications
| | |
| --- | --- |
| Frequency range | 0,05…30 MHz |
| Verstärkung | 13 dB |
| Operating voltage | 9…16 V |
| Power consumption | etwa 150 mA |
Power supply:
The power supply is not included. The antenna electronics require stabilized, smoothed DC voltage of 9 – 16Volt and minimum 150mA continuous current.
The positive pole of the DC plug is inside.
Untuned loops are powerful receiving antennas in conjunction with a dedicated amplifier circuit.
Short loops, the circumference of which is not more than one tenth of the wavelength, are referred to as "magnetic loop" antennas. In conjunction with a low input impedance amplifier operating as a current-to-voltage converter, a broadband active antenna is obtained that is uniformly received over a wide frequency range.
Important criteria of the electronics are as follows:
The combination of loop and amplifier together provides a uniform frequency response in the range of 30kHz – 30MHz.
High dynamic range detection (linear processing of several simultaneously received signals)
High sensitivity (low noise)
Maximum decoupling from the DC operating voltage supply
Circuit description: Antenna electronics
The symmetrical output signal of the loop is fed into the base circuit by means of a symmetry transformer of the first stage. The amplifier input has a very low input impedance, which makes the loop broad-band as a "magnetic loop" antenna.
The amplified HF is picked up at the collector of the first transistor and DC coupled to the high-impedance input of the second stage. The second transistor operates as an impedance transformer (emitter follower) and ensures a 50 ohm output.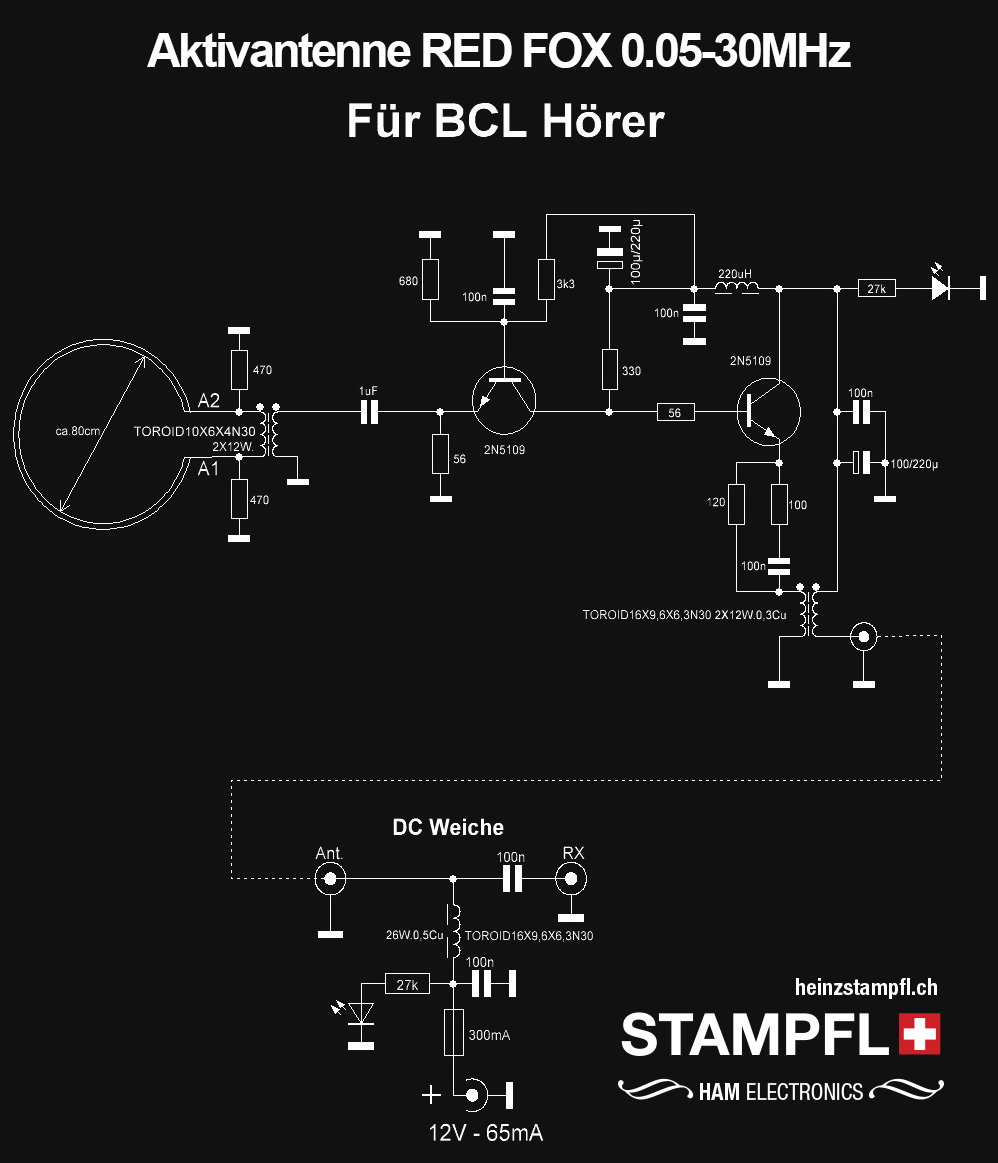 Circuit description: DC switch
The DC remote supply switch allows the power supply of the antennae via the antenna cable.
The decoupling of the DC supply input from the high-frequency feedthrough of the coax cable is an extremely important point!
If DC decoupling is insufficient, interference from the DC input can enter the receive branch.
Decoupling DC switch