You are here:
Home
/
About Stampfl
Production
All of our keys are manufactured in small batches – approximately 20-100 pieces. Every key gets its own serial number.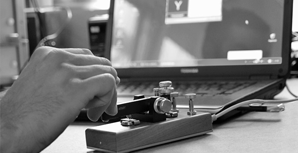 Development
What originated as a precision application of Swiss army morse keys is now a fully developed, adjustable mechanic key with integrated electronics.
Service
STAMPFL Morse keys are carefully manufactured solely by hand. Customers can also request an individually produced key according to their own specifications.
Learn more about that at Deluxe.